March Happenings Across Rhode Island
March is here, which means the vibrant colors and new beginnings of Spring are just around the corner. With fun-filled days planned ahead, and St. Patrick's Day quickly approaching, we created a roundup of events across Rhode Island that you don't want to miss!
Whether you're looking for a family-friendly parade, an Irish-inspired night of music, or a favorite local pub serving up Irish classics, there is something for everyone!
Celtic Concert with Turas at Linden Place
​​
Friday, March 10th • 7:00 PM – 9:00 PM
Linden Place • 500 Hope St, Bristol, RI
To celebrate Irish Heritage Month, the Rhode Island band, Turas, will perform traditional Irish and Celtic music, as well as modern compositions in the Linden Place ballroom. Tickets are $20, $15 for members, and free for Colt Circle Members. They can be purchased online at www.lindenplace.org. Enjoy the sounds of Ireland in Bristol!
67th Annual Newport St. Patrick's Day Parade
March 11th, 2023 • 11:00-1:00 PM
From Newport City Hall to Carroll Avenue at Saint Augustin's Church
A historic tradition in Newport, the annual St. Patrick's Day Parade is a great way to celebrate this festive holiday with family and friends! Lasting around two hours, the parade will include various forms of entertainment such as marching bands, pipe bands, reenactment units, and local, state, and regional organizations, just to name a few.
Irish Music at Greenvale Vineyards
Friday, March 11th • 2:00 PM – 5:00 PM
Greenvale Vineyards • 582 Wapping Rd, Portsmouth, RI
Featuring Jack Wright, Jamie Lawton and Tom Perrotti.
The Feast of St. Joseph
March 19th, 2023
Atwells Ave, Providence, RI
In honor of St. Joseph's Day, a holiday that includes a big Italian feast, all of the bakeries in Federal Hill will be baking an Italian delicacy called Zeppole. Zeppole is known to be "a celebration itself" because of its lusciousness and decadence…what could be better? It's custom to wear red to honor St. Joseph
Providence St Patrick's Day Parade
March 18th, 2023 • 12:00 PM
From Smith St. and Hilltop Ave to the Rhode Island State House
Embrace the luck of the Irish with one of the biggest parades of the season! Traditional Irish music, dance, and a lively atmosphere will fill the streets of Providence!
Guinness Shamrock Shuffle 5K (Race 3 Tour de Patrick)
March 27th, 2023 • 11:00 AM
North Kingstown High School • 150 Fairway Dr, North Kingstown, RI
Show your support for the community by participating or cheering on the runners in the Guinness Shamrock Shuffle 5K! Tickets for the 5K, as well as for the kids race that occurs prior at 10:30 AM, can be purchased here. This event will be in support of the North Kingstown track team, in memory of Brandon Burns.
Newport Foodies Winter Stroll
Friday and Saturday Evenings • 6:00 – 8:30 PM
Indulge in the variety of flavors that the historic streets of Newport have to offer in this three-course food and wine pairing tour! Tasting locations for the winter stroll include Vieste Italy, Midtown Oyster Bar, and Bar and Board Bistro. Purchase tickets here for an amazing night full of fine foods and fun!
Newport Contemporary Ballet:
Elements
March 16th-18th, 24th & 25th, 2023 • 7:30 PM
The Keats Theatre at St. Andrew's School, 63 Federal Rd., Barrington, RI
Experience the Newport Contemporary Ballet's striking, soulful "Elements" performance! This beautiful production choreographed by Caleb Mitchell, Juan Rodriguez and Yoshito Sakuraba is guaranteed to blow you away! If you've been looking for a captivating performance, purchase tickets for the "Elements" show here.
Guided Tours of Historic Fort Adams
Saturdays and Sundays in March • 11:00 AM, 1:00 PM, & 3:00 PM
90 Fort Adams Drive Fort Adams State Park, Newport, RI
Discover the ins and outs of this national historic landmark, accompanied by breathtaking views of Newport Harbor and Narragansett Bay! This guided tour will allow you to enter the quarters where the officers and their families lived, explore the underground tunnels beneath the fort, and experience around 200 years of American history, military culture, engineering and architecture.
"Hit Me With Your Best Shot!" Exhibit Premiere
March 22nd, 2023 • 5:00 PM
International Tennis Hall of Fame • 194 Bellevue Ave, Newport, RI
To celebrate Women's History Month and honor the incredible women in our lives, you can find countless events across the State. this exhibit premiere hosted by the International Tennis Hall of Fame! This event will commemorate the celebratory month by showcasing all of the amazing work done by tennis photographer, Carol Newsom, and will include a panel discussion focused on inspiring women in sports photography. Tickets can be purchased here and will include the viewing of Hit Me With Your Best Shot!, beverages, and access to the museum and panel discussion.
______________________________________________________
Looking Ahead…
Nayatt 5K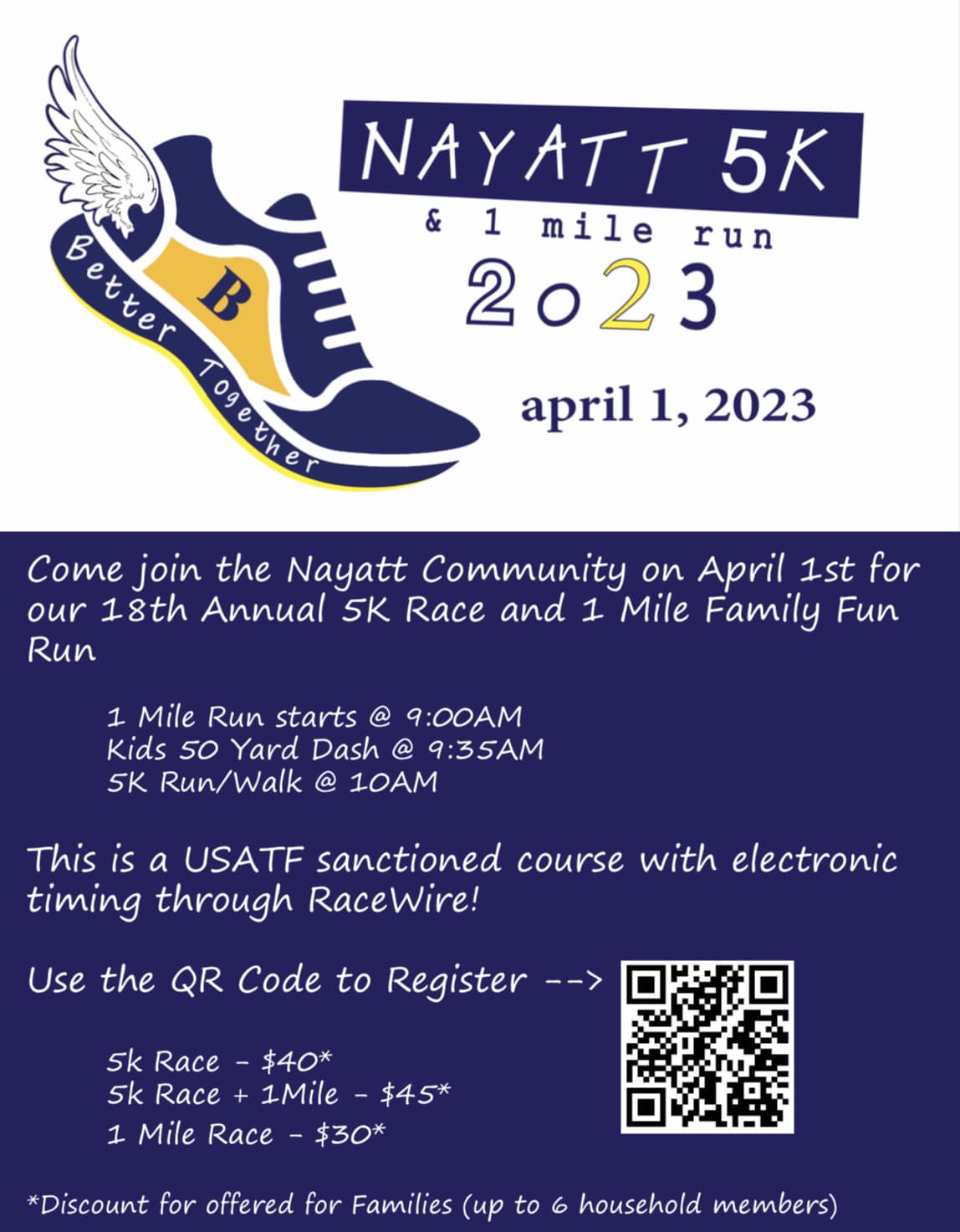 Saturday, April 1st • 7:15 AM
Nayatt Elementary School • 400 Nayatt Rd, Barrington, RI
Join us in supporting the Annual Nayatt School 5K on Saturday, April 1st! Register to participate or come cheer on the community during this wonderful event, featuring a 1-Mile Run, Kids 50 Yard Dash, and the 5K Run/Walk Main event!